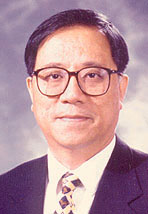 Yeung Sum
Dr. Yeung Sum is the vice chairman of the Democratic Party, Hong Kong's largest and most popular political party. A Legislative Councillor from 1991 until July 1997 and a lecturer at the University of Hong Kong, he has worked for decades to change the territory's political landscape and to guarantee basic rights and freedoms for its citizens.
Education and Background:
Born in Canton, China in 1949, Yeung Sum grew up in economically poor circumstances and was educated in Hong Kong. After obtaining his undergraduate degree at the University of Hong Kong, Dr. Yeung earned his master's degree at the University of York in Britain before returning to earn his doctorate from the University of Hong Kong. Yeung Sum has taught at Hong Kong University since 1979 and has been a lecturer in the department of social work and social administration since 1985. He continues to teach on a full-time basis today.
Political Career:
One of the territory's leading public figures, Dr. Yeung has been involved in politics for over two decades. He was a founding member of the United Democrats of Hong Kong (UDHK), Hong Kong's first political party, and served as its vice chairman from 1990-94. He has also served on the Executive Committee of the Hong Kong Alliance in Support of Patriotic Democratic Movement in China since its formation in 1989.
When Hong Kong held its first democratic elections in 1991, Dr. Yeung won one of 18 elected seats (of 60) in the Legislative Council. Yeung Sum was re-elected four years later when the former British colony held its last elections before the handover. He won a hard-fought race to represent the Hong Kong Island West district, soundly defeating one of the leading Beijing-backed candidates. The race was widely viewed as a key test for the public support and future of the pro-democracy movement in Hong Kong.
But Dr. Yeung -- along with other democrats in the Legislative Council -- was ousted from office on 1 July 1997 when Beijing abolished the elected legislature and replaced it with the appointed Provisional Legislature. Indeed, the candidate he defeated in the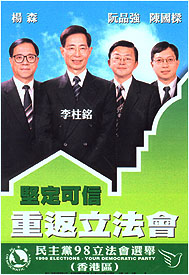 1995 elections was appointed to the new body. However, Dr. Yeung continues to fight for democracy in Hong Kong. Although the 24 May 1998 elections took place under restrictive new rules passed by the appointed legislature, the Democratic Party and our allies participated in the elections in order to give Hong Kong people a voice and a choice in their government. As a result, Dr. Yeung, representing the Hong Kong Island constituency, won one of 20 elected seats (of 60) in the Legislative Council.
Dr. Yeung is the Constitutional Affairs spokesperson and Social Welfare deputy spokesperson for the Democratic Party.
Community Service:
Outside of his political work, Dr. Yeung is also dedicated to social work and education. A member of the Education Action Group since 1975, he has been a board member of the grassroots pressure group, the Society for Community Organization, since 1976. He was also a member of the government's Social Welfare Advisory Committee.
Personal:
Dr. Yeung is married and has one young son.