Yuen Bun-keung
Yuen Bun Keung is a candidate for the May 1998 legislative elections, an elected District Board member from 1986 through the present and heads the Democratic Party's Island West Branch. The Democratic Party is Hong Kong's largest and most popular political party.
Education and Background:
Born in 1943, Mr. Yuen attended Grantham College of Education and later studied under a Fellowship at Trinity College of London in solo singing. He has been a high school music teacher by profession since 1972.
Political Career:
Mr. Yuen is active in community affairs and social service to the society. In 1972, Mr. Yuen became active in Hong Kong's development as a member of the Mid-levels West area Committee monitoring district affairs. He was elected as the chairman of the Mid-levels West area Committee in 1982 and organized various cultural activities, which gave Mr. Yuen an opportunity to help citizens to improve their quality of life. In order to serve the community more effectively, Mr. Yuen participated in the 1985 District Board elections, the first ever elections to a representative body in Hong Kong.
He was elected as the Chairman of the Central and Western District in 1994, and was chosen as the Chairman of Central and Western District Board, a post he occupied until June 30, 1997, when a number of pro-Beijing appointees were added to tilt the balance of power against the elected District Board members. In September 1995, Mr. Yuen ran for a seat in the Legislative Council through the election committee. Though he narrowly missed winning, he will stand again for a seat in the legislature on the Democratic Party's Hong Kong island ticket.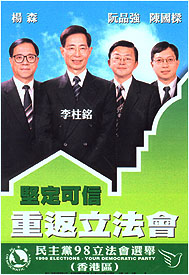 Democratic Party Activities:
Mr. Yuen was a founding Member of the Democratic Party and its predecessor party, the United Democrats of Hong Kong, Hong Kong's first political party. He is an active party member and is a member of the decision-making Standing Committee of the Democratic Party. He is also the Chairman of the party's Members Affairs Committee, from 1994 through the present.
Community Service:
Yuen Bun-Keung is a member of a number of important social service and community bodies: he was a member of the Advisory Committee of the Caine Road Caritas Social Centre and was the Vice-Chairman of the Central and Western District Cultural & Arts Association.
Personal:
Mr. Yuen, who is single, enjoys and supports music in the community. He was the Conductor of the Choir of Medical & Health Department, the Concert Manager of the Hong Kong Oratorio Society and a Director of the United Social Service Centre.