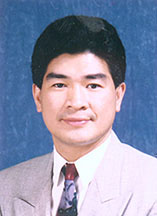 Sin Chung-kai
Sin Chung-kai has served Hong Kong people for more than 10 years as an elected Legislative Councillor and elected District Board member. A core member of the Democratic Party, Hong Kong's largest and most popular political party, Mr. Sin is one of the best-known young advocates for democracy and freedom in the Special Administrative Region.
Education and Background:
Born and educated in Hong Kong, Mr. Sin obtained his undergraduate degree from the University of Hong Kong. He was a leader among the students and served as the Current Affairs Secretary of the Student Union, representing his colleagues at social movements and campaigns. Since then, he has gone on to work in the Information Technology department at Hong Kong and Shanghai Banking Corporation Limited. He currently holds the post of Assistant Information Technology Project Manager. Mr. Sin obtained a Master in Business Administration from the Chinese University of Hong Kong in 1997.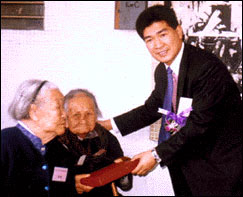 Political Career:
Sin Chung-kai has been involved in Hong Kong politics for over a decade and has been an elected representative at all three tiers of government. Of the 25 seats on the Kwai Tsing District Board, he was one of seven democratically elected members, first elected in 1985. He has been re-elected to this office four times since. He is now chairman of the Kwai Tsing District Board and will serve in this post until the expiration of his term in 1999. From 1988-94 he also was a Regional Councillor for the area.
In September 1995, Sin Chung-kai won one of the most hotly contested seats in the last Legislative Council elections held under British rule. Winning 70 percent of the popular vote, he soundly defeated a prominent Beijing-backed candidate in the race to represent the New Territories South geographical constituency. This election was widely viewed as a key test for the public support of the pro-democracy movement in Hong Kong. As a result of the 1995 elections, the Democratic Party won 19 seats to become the largest party in the Legislative Council. On 1 July 1997, all 19 Democratic Party members were ousted by the Beijing-appointed Provisional Legislature. In May 1998, Mr. Sin, representing the Information Technology functional constituency, was re-elected to the Legislative Council.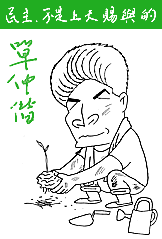 Mr. Sin was an executive committee member of the United Democrats of Hong Kong (UDHK), Hong Kong's first political party and was a founding member of its successor, the Democratic Party, in 1994. Mr. Sin is the Democratic Party spokesperson for Information Technology and deputy spokesperson for Economic and Financial Affairs.
In the legislature, Mr. Sin championed the preservation of democratic institutions, the rule of law and human rights.
Personal:
Mr. Sin is married and has two sons. He lives in Kwai Chung.
E-mail: chungkai@hknet.com
Web site:http://www.sinchungkai.org.hk/