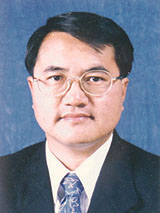 Lee Wing-tat
Lee Wing-tat is a core strategist and member of the Democratic Party and has been a pioneer in issues ranging from democracy and human rights to housing for the local population.
Education and Background:
Born in Hong Kong in 1955, Mr. Lee received his secondary level schooling at St. Paul's College and his Bachelor's degree at the University of Hong Kong. He was a student leader and served as the Student Union vice president in 1979, where he participated in student movements and continued to mobilize the public after graduation. These experiences were the foundation on which his political career was organized and built.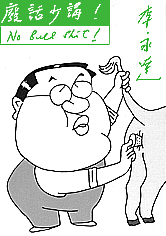 Political Career:
Mr. Lee has been an elected public official for more than a decade. From 1985-94, he was elected to the Kwai Tsing District Board and chaired this body from 1988-91. From 1986-89, he served as a Regional Councillor for the area.
Mr. Lee was first elected to the Legislative Council in 1991; he was re-elected four years later with 66 percent of the popular vote in the New Territories Southwest constituency. In the legislature, he chaired the Panel on Housing for seven years and successfully pressured the government to improve its policy and speed up housing production. During the past five years, housing construction in Hong Kong has increased from 50,000 flats to 85,000 per year - a gain of almost 60 percent.
But Mr. Lee's term was cut short on 1 July 1997, when the legislature was disbanded and replaced by the Beijing-appointed Provisional Legislature. All 19 Democratic Party Legislative Council members and their pro-democracy allies were thrown out of office. Although he is no longer a legislator, Mr. Lee continues to fight for change through his membership in the Housing Authority.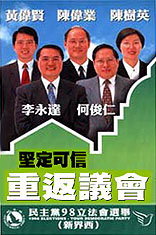 In 1986, Mr. Lee was the vice chairman of the Association for Democracy and People's Livelihood, one of Hong Kong's earliest pressure groups. In 1990, he became a founding member of the United Democrats of Hong Kong, the political forerunner to the Democratic Party. Mr. Lee is guided by a sense of democratic justice which motivates him to work for the underprivileged in Hong Kong.
Mr. Lee is a member of the Democratic Party's principal decision-making body, the Central Executive Committee. He is also the secretary of the Party Legislative Council Caucus. Mr. Lee is responsible for the policy development of party members in municipal and district councils.
Mr. Lee is the Democratic Party spokesperson for housing and infrastructure issues and is the deputy spokesperson for the New Territories and community concerns. In the May 1998 elections, Mr. Lee, representing the New Territories West geographical constituency, won one of 20 elected seats (of 60) in the Legislative Council.
Personal:
Mr. Lee is married and lives in Kwai Chung.