Albert Ho Chun-yan
A core member of the Democratic Party, Albert Ho is an elected leader who has long championed the preservation of democratic institutions and human rights in Hong Kong. A stern advocate of freedom, Mr. Ho has served in multiple tiers of Hong Kong government and continually challenges the Chinese government to practice more transparency and to adopt the rule of law.
Education and Background:
Born and educated in Hong Kong, Mr. Ho earned his Bachelor of Laws with honors from the University of Hong Kong in 1974. He went on to obtain his postgraduate Certificate in Laws the following year. He was admitted as a solicitor in July 1977 and appointed a notary public in 1988. Mr. Ho worked for Messrs. C.Y. Kwan & Co. as a solicitor for almost 20 years before departing to set up his own law firm. Mr. Ho's litigation experience ranges from cases related to banking and commercial law to land law and matrimonial disputes. Mr. Ho also has extensive expertise in criminal and medical negligence cases. He has done a number of human rights cases on a pro-bono basis.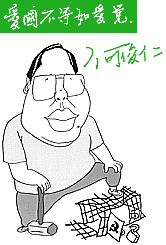 Political Career:
Mr. Ho was an appointed member of the Kowloon City District Board from 1982-83. In 1995, he was elected to the Regional Council, winning the largest number of votes in the Regional Council elections that year. He was also elected to the Legislative Council in the same year, winning 54 percent of the popular vote in the New Territories West geographical constituency. In 1998, Mr. Ho, representing the New Territories West constituency, won one of 20 elected seats (of 60) in the Legislative Council.
Mr. Ho believes that human rights and the rule of law are basic ingredients to a good society. In the legislature, Mr. Ho chaired the panel on Home Affairs, which held open sessions with non-governmental organizations (NGOs)overseeing human rights reports submitted to the United Nations by the British government on behalf of Hong Kong. The panel also dealt with issues concerning child support payments and the integration of new immigrants into mainstream society. Mr. Ho has been a panel member of the Board of Review, hearing tax appeals to the Commissioner of Inland Revenue. From 1991-96, he was a member of the Health and Development Advisory Committee.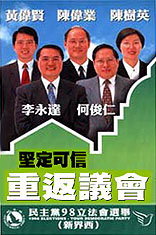 In November 1997, the Democratic Party nominated Mr. Ho to stand for a seat in the National People's Congress. Despite his wide popularity, Mr. Ho was eliminated from the first round of competition after failing to obtain the minimum number of nominations from the 400-member, Beijing-appointed election conference.
Mr. Ho is the Human Rights and Legal Affairs spokesperson for the Democratic Party; he is the deputy spokesperson for issues concerning Finance, Housing, Security and Transport.
Personal:
Mr. Ho is married and has three children.