BIOGRAPHY OF MARTIN C.M. LEE
Martin C.M. Lee (Lee Chu Ming) is the Founding Chairman (1994-2002) of the Democratic Party, Hong Kong's largest and most popular political party. Prior to the founding of the Democratic Party in October 1994, Mr. Lee was Chairman of the United Democrats of Hong Kong - Hong Kong's first political party - which won the first-ever democratic elections to the territory's Legislative Council in 1991. Since then, the Democratic Party has won every set of elections held in Hong Kong and has received wide public support for its stance that Hong Kong must develop democratic institutions and preserve freedom, human rights and the rule of law if the territory is to continue to prosper as part of China.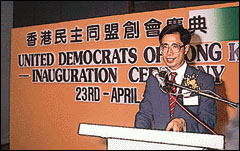 Career:
A barrister, Mr. Lee was appointed Queen's Counsel in 1979 and was chairman of the Hong Kong Bar Association from 1980-1983. He was first elected to the Legislative Council in 1985 and has been overwhelmingly re-elected in every election since. He served from 1985 -1989 as a member of the Basic Law Drafting Committee, the body appointed by Beijing to draft Hong Kong's post-1997 constitution, until his expulsion following the 1989 Tiananmen crackdown.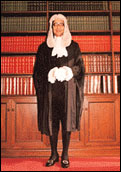 Post-Handover Hong Kong:
On July 1, 1997, Hong Kong was transferred from Britain to China. China's first act of sovereignty was to abolish the legislature elected by Hong Kong people in 1995, replacing it with a Beijing-appointed body, the Provisional Legislative Council. Many members in China's appointed legislature were defeated in the 1995 polls. This appointed body rubber-stamped a number of laws restricting freedom of speech and assembly, rolled back the Bill of Rights and changed the electoral rules to favor pro-China candidates. In the May 1998 Legislative Council elections, 50% more citizens turned out to vote than in any previous election. But because of the biased electoral rules, democrats - who won two-thirds of the votes cast - occupy only one-third of the legislative seats.
International Recognition:
The European People's Party and European Democrats in the European Parliament named Martin Lee the first non-European recipient of the Schuman Medal in January 2000. Martin was honored, in the same month, by the University of Toronto as Goodman Fellow. The Claremont Institute in Los Angeles gave its Statesmanship Award to Martin Lee in 1998. In 1997, the National Endowment for Democracy presented Martin Lee its Democracy Award at a Capitol Hill ceremony. In the same year, Martin Lee was awarded honorary Doctor of Laws degrees by Amherst and Holy Cross Colleges. In 1996, Liberal International - representing 70 political parties worldwide - awarded Mr. Lee the Prize for Freedom at the World Council of Liberals meeting. In 1995, the 350,000-member American Bar Association awarded Martin Lee its 1995 International Human Rights Award "in recognition of extraordinary contributions to human rights, the rule of law and the promotion of justice."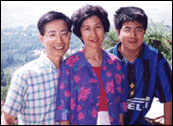 Community Service:
Mr. Lee is active in community and social services. He chaired the Hong Kong Consumer Council from 1988 to 1991, and serves as legal adviser to a number of professional bodies.
Personal:
Mr. Lee was born in Hong Kong in 1938. He received a B.A. degree from the University of Hong Kong and studied law at Lincoln's Inn in London. He is married and has a son.